In line with recent changes to the Welsh Government's Covid-19 Alert Levels, the Senedd building has been opening in phases.
Currently, the Senedd building is open between Monday – Thursday, 09.00 – 16.30 or until the end of Senedd business, and you will need to book a free ticket to visit.
We'll share our plans of opening the buildings on our social media and website, so remember to follow us there if you don't already.
Open: Monday – Thursday 09.00 – 16.30 or until end of Senedd business.
About the Senedd Building
The home of devolution in Wales.
Designed by Rogers Stirk Harbour and Partners, this building embodies democratic values of openness and participation. The transparency of the building allows you to enjoy a lot from the outside but come inside to learn more about how the Welsh Parliament represents the people of Wales.
You can view Senedd debates on Mondays – Thursdays live in the building or online at: www.senedd.tv.
Committees deal with specialised areas whilst Plenary looks at wider issues and opportunities for Wales. Both of these aspects are equally important in ensuring that the Senedd represents the people of Wales effectively.
You can book a ticket to view Plenary along with your entrance ticket.
To view a committee, please speak to a member of staff whilst visiting to find which committees are meeting on that particular day. Our website calendar list the dates when our committee meetings are scheduled to take place.
Follow the Story of Devolution
Our timeline of key milestones of Wales' journey to devolution and the key achievements over the past 20 years, can be seen around the funnel, the central focus of the Oriel.
Café
We have a comfortable café area inside which offers a range of hot and cold drinks, a lunch menu, and cakes. With excellent WiFi facilities, a large seating area and beautiful views of Cardiff bay, why not use the Senedd as a meeting place?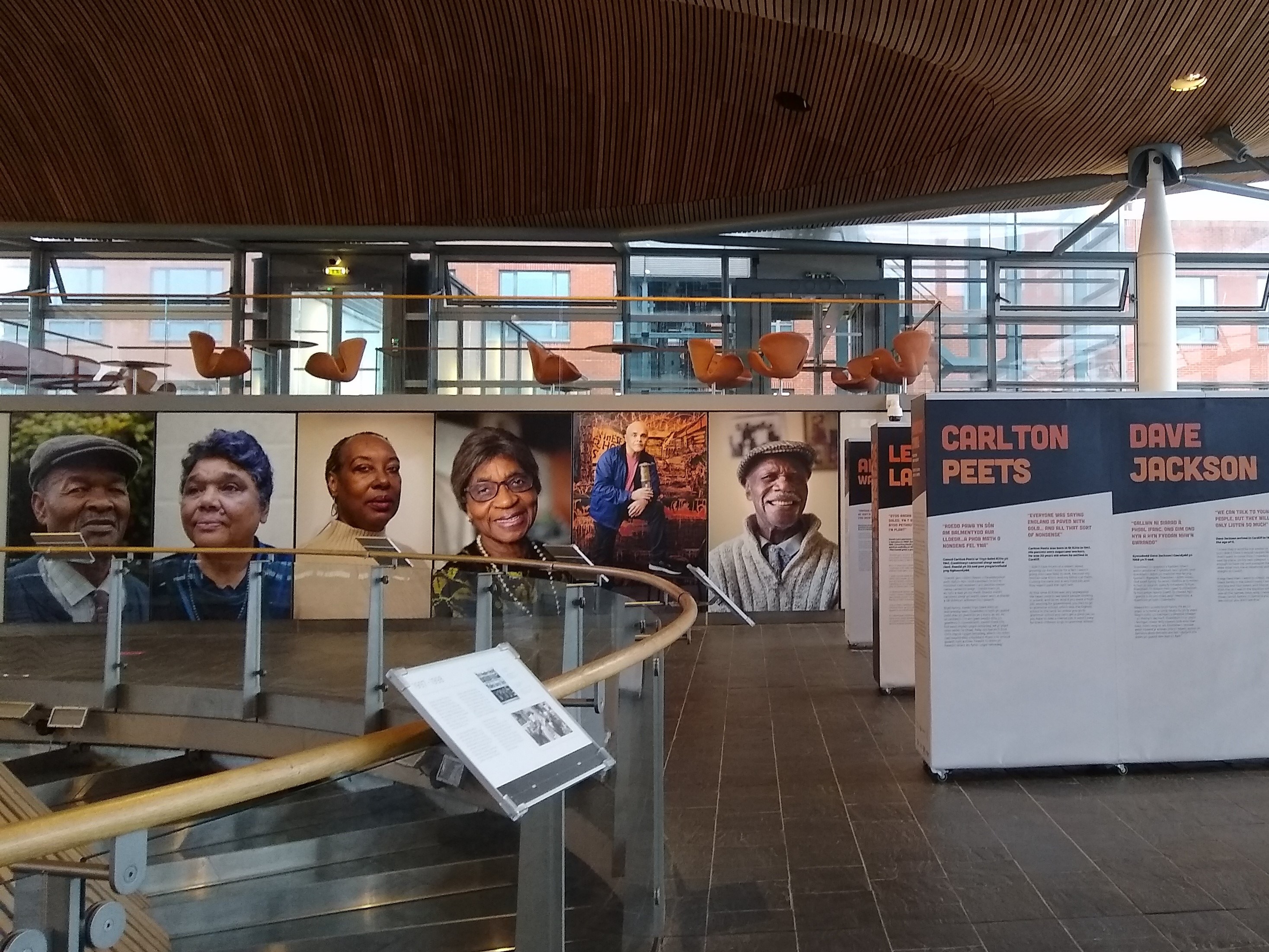 Exhibitions
Windrush Cymru: Celebrating the lives and journeys of a generation showcases the results of an oral history project to preserve and celebrate the lived experiences of the Windrush Generation in Wales.
Led by Race Council Cymru, the exhibition is delivered in partnership with the Senedd and Amgueddfa Cymru – National Museum Wales and is part of Race Council Cymru's Windrush Heritage Project, funded by The National Lottery Heritage Fund.
13th September- 16th December
During your visit
We have a range of measures in place to keep our visitors, staff and Members safe:   
for anyone wishing to retain a 2m social distance from staff or other visitors, social distancing lanyards are available from Security staff. We ask you to regularly wash your hands and/or use hand sanitiser, which will be provided in common areas throughout the building;  
a face covering will need to be worn by all over the age of 11 for the duration of your visit, unless you are exempt;  
you won't be permitted to re-enter the building once you have left.  Please be mindful of this when planning your visit;
QR codes for the NHS Covid notification app will be displayed on your arrival. If you haven't already downloaded this app, we would encourage you to do so;
we may share your information with Test, Trace and Protect. 
Considerations before visiting  
please do not attend if experiencing any symptoms of Covid-19, or if told to isolate, or if anyone in the household is experiencing Covid-19 symptoms; 
QR codes for the NHS Covid-19 notification app will be displayed on your arrival. If you haven't already downloaded the app, we would encourage you to do so; 
please allow approximately 15 minutes to go through security;   
there may be a short queue outside the building prior to entering;   
please minimise the amount of belongings you bring with you, as we have airport-style security and all visitors and belongings are scanned;   
our café, shop, toilets and Changing Places facility, will be open. Our cloakroom will be closed.  
On arrival you will be welcomed by a member of our team who will provide a brief overview of what to expect in the building. 
Booking your free ticket 
You will need to book a free ticket before visiting the Senedd building.
To book a ticket:  
contact us by telephone (08.30 to 17.30 Monday to Friday), or;  
If you're no longer able to make it on the day, please let us know and we can reallocate your ticket/s.  
Please note that due to the current limited capacity of the building, this sometimes means that we need to close the building to the public so that essential Senedd business can continue. Although we expect this to rarely happen, we will in these instances contact you to rearrange or cancel your booking.