A report launched today by the Senedd's Health, Social Care and Sport Committee is calling for social care workers to be treated equally to their NHS counterparts - both in their employment terms and conditions and the way in which they are perceived.
The Committee is calling for the Welsh Government to set out how work being undertaken to professionalise the social care workforce will establish a clear and properly paid career pathway for social care workers.
The Committee believes that COVID-19 has brought the massive contribution of social care workers to the forefront and has highlighted the need for urgent reforms - it is calling for long overdue, long term and sustainable social care funding.
Respite for unpaid carers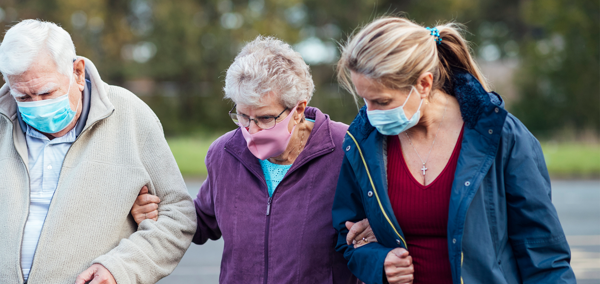 The Committee believes that unpaid carers are the cornerstone of community care, responsible for delivering the vast majority of care in Wales and that without them, the social care system would face collapse. This is an issue the Committee has been highlighting for many years, and it is clear that even before the pandemic, unpaid carers were struggling with demands on them, such as exhaustion, physical and mental health problems, anxiety, isolation from friends and family and a feeling of lost identity.
Members of the Committee are concerned about the pressures on unpaid carers and are calling for Welsh Government Ministers and carers organisations to develop more creative ways of delivering respite and short breaks for unpaid carers.
Funding and support for young carers
A survey carried out by Carers Trust Wales into the impact of coronavirus on young carers aged 12 to 17 and young adult carers aged 18 to 25 shows a steep decline in the mental health and wellbeing of thousands of young people across Wales who provide unpaid care at home for family members or friends.
The Committee is clear that problems that already existed for young carers have been greatly exacerbated by home-schooling and the loss of opportunities for young carers to socialise with their peers during the pandemic. Committee Members are extremely concerned by the evidence they have heard that young carers' mental health is 'deteriorating'  in lockdown.
The Committee is calling for sustainable funding for young carer services and for the safe re-opening of face-to-face support to be prioritised.
Financial strain on carers
In gathering evidence, the Committee heard how carers are also feeling the financial strain of caring. According to Carers Wales, more than a quarter of carers are struggling to make ends meet due to the extra financial pressure of the pandemic. The Committee heard how, unlike benefits under the umbrella of universal credit, carers who rely on a carers allowance are not receiving a subsidy during the pandemic and an increasing number of carers are also being put in the difficult position of deciding between paid work and their caring responsibilities. The Committee is concerned to hear of the increasing number of carers using foodbanks as a result of these financial pressures.
As part of its scrutiny of the Social Services and Well-being Act, the Committee has previously called on the Welsh Government to introduce a 'long-term, sustainable and streamlined funding arrangement' for third sector organisations delivering essential services for carers. Although the Welsh Government accepted this in principle it has not delivered it. In light of the financial pressures on carers due to COVID-19, the Committee is calling for this recommendation to be implemented as a matter of urgency.
Vaccines for carers
The Welsh Government recognised carers in the priority list of people receiving the COVID-19 vaccine under priority group 6. The Committee is monitoring how the Welsh Government is identifying and contacting unpaid carers to offer the vaccine and believes it is extremely important that groups of unpaid carers are not unfairly excluded from accessing the vaccine.
Visits to care homes
Over the last 12 months all care homes across Wales restricted visits for residents at some point. While the Welsh Government says there are no 'blanket bans' and that it is encouraging safe visits, the Committee heard how some homes are continuing to prevent visits.
The Committee has heard evidence of the harms being caused to residents and their loved ones by prolonged separation and is recommending that the Welsh Government acts. The Committee is calling for:
care homes to have access to all the necessary equipment and facilities (e.g. pods and lateral flow testing for visitors) to enable visits to resume
strengthened guidance for care home providers to ensure that allowing safe visits becomes the default position.
the Welsh Government to work with Care Forum Wales to gain and maintain a clear picture of the position across Wales and to facilitate the sharing of good practice to increase the number of homes that are allowing safe visits.
Dr Dai Lloyd MS, Chair of the Senedd's Health, Social Care and Sport Committee:
"Unlike the NHS, which everyone will have accessed at some point in their lives, the social care sector is largely invisible except to those who need its support; to them it is invaluable.
"COVID-19 has brought to the forefront the massive contribution our social care workforce makes in keeping our most vulnerable citizens safe. It has also highlighted the need for reforms and a long-term, sustainable funding arrangement for social care that has long been talked about and is long overdue.
"It's time for care workers to be put on an equal footing with NHS workers, both in their employment terms and conditions and the way in which they are perceived.
"We must also support those who live in care homes and their loved ones. We've all heard the heart breaking stories of the separation of care home residents from their loved ones during this pandemic. We're asking the Welsh Government to urgently intervene to make sure that allowing safe visits becomes the default in homes across Wales.
"Today we're calling on the Welsh Government to make urgent changes to support the critical work that carers, employed or unpaid, carry out every day to protect and support our most vulnerable citizens. We are calling for carers to be supported, recognised and rewarded to enable them to continue caring for as long as they wish to do so."