Wales's deaf rugby World Champions were celebrated at the Senedd this week after the women and men's historic double win at the World Deaf Rugby Sevens World Cup.
Team members, including captains Sarah Harper and Jon Cudd, along with members of the coaching staff were at the Senedd, on Tuesday 11 July, to mark their remarkable feat at the competition held in Argentina in April.
The men defeated Australia 20-5 in the final match to successfully retain their World Cup trophy and the women beat England 32-0 in their first-ever final.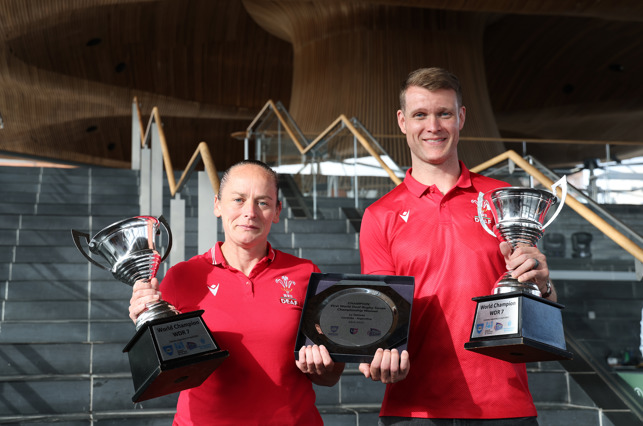 Sarah Harper and Jon Cudd, captains of Wales' Deaf Rugby Teams
The Wales women's team were competing at the Deaf Rugby World Cup for the first time. Captain Sarah Harper said it was an important milestone for the women's game in Wales.

Sarah Harper, Wales Deaf Rugby Women's team captain said, "It was a massive achievement for the women's team to go to Argentina, to represent the country for the first time. And to not only win, but to win unconceded! It was not an easy ride; we didn't have much time for ourselves, and it was challenging trying to keep in touch with family back home. But we overcame! Without the support of the backroom staff and coaches we wouldn't have achieved what we did, with both men and women returning home as World Champions!"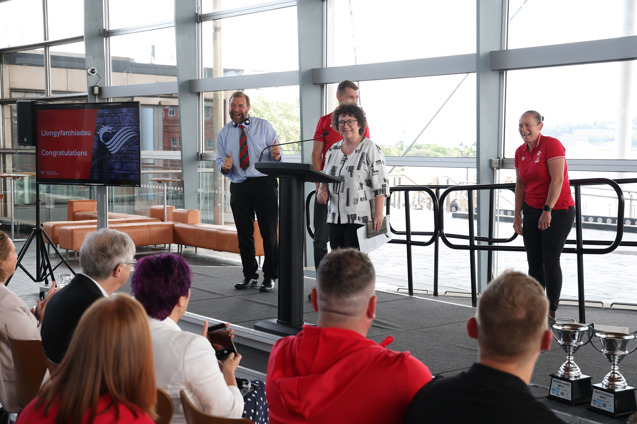 Llywydd of the Senedd, Rt. Hon Elin Jones, congratulates the teams on their success
During the event, the team recalled memorable moments from the tournament and the Llywydd of the Senedd, Elin Jones MS, the First Minister, Mark Drakeford MS, and Members of the Senedd took the opportunity to extend their congratulations. 
Llywydd of the Senedd, Rt. Hon Elin Jones said, "We are always proud of our national athletes, and all are equally important. But, right now, the Wales deaf rugby teams are a little bit more important because they are double world champions, men and women, you cannot get any better than that!
"It was our honour to welcome the teams and their support staff to the Senedd, to congratulate them for being at the top of their game - indeed, on top of the world.
"It was an opportunity to recognise not only their achievement at the competition, but for the weeks, months and years of effort that has gone in to becoming international players and becoming the best in the world. We are all very proud of you. Llongyfarchiadau!"
The First Minister, Mark Drakeford MS, meets some of the players