Former Royal Harpist Claire Jones will play a specially composed piece to mark The King's first visit to Wales on Friday. Ms Jones will play the piece as Their Majesties The King and Queen Consort make their way through the Senedd to hear a motion of condolence.
The piece, titled "Gorymdaith i'r Frenin Siarl" ("A Procession for King Charles") was written by Claire's husband, Chris Marshall.
The King and Queen Consort will be greeted by the Senedd's Llywydd and the First Minister when they arrive at lunchtime on Friday. Two harps will play to mark the occasion with Cerys Rees and Nia Evans joining Ms Jones.
Award winning harpist Claire Jones said: "'I very much look forward to performing for King Charles and his family again when they visit Wales. It was such a privilege to be his Official Harpist for 4 years and during that time I performed over 180 times for the Royal Family including one to one for Her Majesty the Queen and for many state occasions for Her Majesty over the years. The performance at the Senedd will be a very special moment as I perform my husband's music for His Majesty King Charles."
Composer Chris Marshall said: "I am truly honoured to compose this special work for such a momentous occasion, the arrival of King Charles III in Wales. The music is a stately, sombre procession which represents the ascension of the Monarch to the Throne."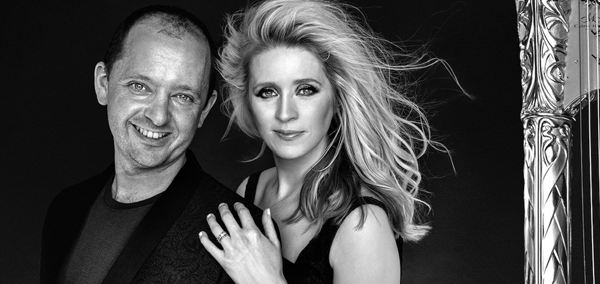 Ms Jones, one of Britain's bestselling classical harpists is a former Official Harpist to HRH The Prince of Wales 2007-11. She became a household name for her esteemed performance at the Royal Wedding in 2011 for the new HRH Prince and Princess of Wales. Claire regularly performs as a soloist with some of the world's leading orchestras and has topped the classical charts with many of her albums in collaboration with her husband composer Chris Marshall.
The composition is by renowned Welsh composer Chris Marshall, whose work has been performed internationally on TV, radio and by many of the World's leading orchestras such as the Royal Philharmonic Orchestra, English Chamber Orchestra and international festivals including the Welsh Proms, Llangollen and in Europe and America.
Also taking part in the event will be Members of the Welsh Youth Parliament, pupils from Cardiff primary school Ysgol Gymraeg Hamadryad, and Shahzad Khan, member of the Senedd security team, who is performing the role of Mace-bearer.