​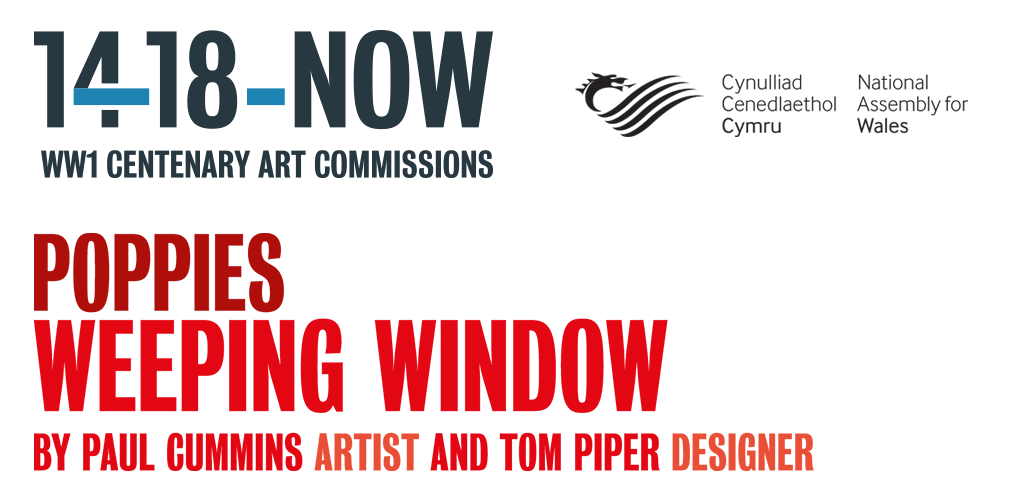 The National Assembly for Wales is pleased to announce that it will present Weeping Window by artist Paul Cummins and designer Tom Piper as part of 14-18 NOW's UK-wide tour of the iconic poppies. The installation will be at the Senedd from 8 August to 24 September.
The presentations by 14-18 NOW, the UK's arts programme for the First World War centenary, will give people across the UK the chance to experience the impact of the ceramic poppy sculptures in a range of places of particular First World War resonance.
The National Assembly has committed to commemorating World War 1 through a series of events on its estate, and across Wales. This installation will form part of the programme.
"It is a great honour for the Senedd, and the National Assembly, to host this iconic installation," said Llywydd, Elin Jones AM.
"The Senedd is the focal point of Welsh civic and political life and it is fitting that we mark the sacrifice made by so many Welshmen during World War 1 by hosting this poignant piece of work.
"The installation has played a central role across the UK in commemorating this brutal conflict. We must never forget the terrible toll that it took on so many people across Wales and the world."
Jenny Waldman, Director of 14-18 NOW, said:
"The poppies have captivated millions of people across the UK, and we are delighted to present Weeping Window at the Senedd in Cardiff in 2017 as part of the ongoing tour. Artist Paul Cummins and designer Tom Piper have created two enormously powerful artworks of national significance that continue to inspire all who see them."
Weeping Window is from the installation Blood Swept Lands and Seas of Red – poppies and original concept by artist Paul Cummins and installation designed by Tom Piper – by Paul Cummins Ceramics Limited in conjunction with Historic Royal Palaces. The installation was originally at HM Tower of London from August to November 2014 where 888,246 poppies were displayed, one to honour every death in the British and Colonial forces of the First World War.
The two poppy sculptures being presented across the UK, together totaling over 10,000 poppies, have been saved for the nation by the Backstage Trust and the Clore Duffield Foundation, and gifted to 14-18 NOW and Imperial War Museums. Financial support for the presentations has been received from the Department for Culture, Media and Sport and the Heritage Lottery Fund, and fundraising for the presentations is ongoing.
DAF Trucks are the transport sponsor for the UK presentations, and 14-18 NOW are delighted to partner with DAF on making this historic project a reality. The learning and engagement programme for the poppies tour is supported by the Foyle Foundation.
For further press enquiries please contact:
Alex Feeney
Media Relations Officer
National Assembly for Wales
0300 200 6252
Alex.feeney@assembly.wales
National Press Enquiries:
Erica Bolton or Lara Delaney, Bolton & Quinn
6 Addison Avenue
London W11 4QR
Tel: 020 7221 5000
Email: erica@boltonquin.com / lara@boltonquinn.com