Every corner of Wales has its own unique story to tell and here at the Senedd, we're proud to represent them all. 
Our beautiful country touches many lives across the world. This St David's Day, we're celebrating Wales being part of so many people's stories. 
A Welsh Story, highlights some of the unique and vibrant experiences of people living in different parts of Wales. 
We have created a short video using candid and real stills of the contributors to help tell their stories. 
The Senedd is a place where all voices are welcomed, heard and represented. 
Find out how Wales has come to be a part of their stories. 
---
Dr Andrea Hammel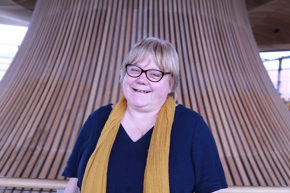 Dr Andrea Hammel is Reader in Modern Languages and the Director of the Centre for the Movement of People (CMOP) at Aberystwyth University. She was born in West Germany in 1968, came to the UK in 1988 and to Wales in 2010.  Her research focuses on refugees from National Socialism who fled to the UK in the 1930s and 1940s. Her most recent projects examined the child refugees of the Kindertransport and refugees who fled to Wales.  
She co-curated the exhibition Refugees from National Socialism in Wales: Learning from the Past for the Future and wrote Finding Refuge: the stories of the men, women and children who fled to Wales to escape the Nazis (Honno, 2022). Learning from History is an important thread through her academic work as well as her other activities. She is a trustee of Aberaid, a charities that helps refugees in Ceredigion and internationally. She lives with her family in Aberystwyth. 
The exhibition, Refugees from National Socialism in Wales: Learning from the Past for the Future, is on display at the Senedd from the 18 February – 18  April 2023. It traces the history of refugees in Wales from the 1930s until the present day. It tells the stories of those who fled from National Socialism in Central Europe to find sanctuary, drawing parallels with modern-day refugees.
---
Daniel Trivedy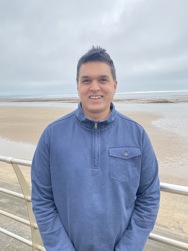 Daniel Trivedy is a multi-disciplinary visual artist of Indian descent based in Swansea. In addition to being a practising artist, Daniel works as a Project Lead for the Arts Council of Wales and as a lecturer on the Art and Design Foundation course at Coleg Sir Gar.  
The Welsh Emergency Blankets act as a platform, bringing two seemingly disparate conversations together. Daniel designed the blankets to promote a more inclusive environment, aiming to reconcile conversations around nationhood and those seeking sanctuary. 
---
Batool Raza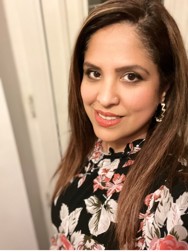 My name is Batool Abid Raza and am currently living in Aberystwyth. I am an art teacher, textile designer, painter and singer. 
I was born in Kuwait but had to leave in 1990 due to Gulf war. I was only 10 years old and took refuge in Pakistan with my family. It took us a good few years to settle in Pakistan. I came to Aberystwyth in 2013 and joined Aberaid in 2016 to help settle the Syrian refugees in Aberystwyth. Since then, I have volunteered in numerous charity events and have created a Muslim ladies community group. We together organise parties, get togethers and religious events for the Muslim community in Aberystwyth. I have been supporting Muslim ladies in Aberystwyth and volunteering in art exhibitions since I came to Aberystwyth. 
---
Latifa Alnajjar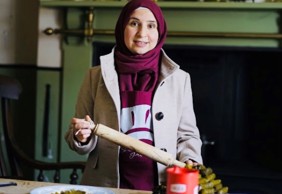 My name is Latifa Alnajjar, and I am from Homs, Syria. I left Syria to take refuge with my family in 2013 to Egypt and then moved here in Aberystwyth in 2016. Red cross and Aberaid helped us to settle here and supported us. Rose from Red cross helped me and two other Syrian women to start a small business named "Syrian Dinner project".  
We started from small stalls to big events like weddings over a tenure of 3 years and we are still growing. We won an award in 2019 in our Nation Sanctuary entrepreneur Award in Cardiff. In 2022, we won a Food and Drink award in Aberystwyth. All this is possible because of the kindness and support of people in Aberystwyth. 
---
Ghofran Hamza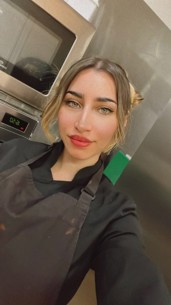 My name is Ghofran, the founder and owner of Arabic Flavour, the first Middle Eastern restaurant in Ceredigion.  My ethos is to bring authenticity and culture through great food. My restaurant was rated by the Guardian magazine as one of the top 15 best Migrant restaurant in the UK. This is just one of the many achievements and accolades that I have been humbled by so far. 
---
Adwitiya Pal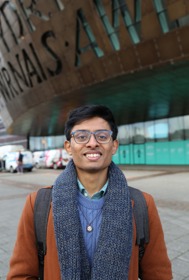 As a journalist, I'm passionate about telling stories and learning more about the challenges faced by people. I believe in the power that words, images and videos hold, and how they can shape views, ideas and affect perspectives and conversations. I'm a fierce advocate for human rights, equality and climate change, and believe in people's liberation from the oppressive capitalist system. I understand that the media today is failing the public by upholding the status quo and not listening to what the people are actually demanding. I hope that I can make a small but significant difference with my work. 
---
Yuxi Huang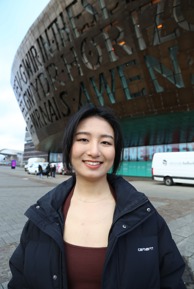 I'm Yuxi Huang from China. It's been over a year and a half since I moved to Cardiff to study for my masters in international journalism. Wales is a country with vibrant vibes. The interesting and friendly people here make me look forward to new stories with them every day. 
---
Shuhan Wang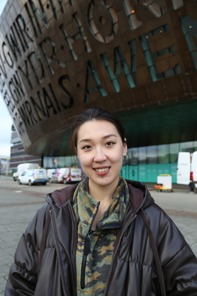 My name is Shuhan Wang. I'm from Northwest China, I came to Cardiff to pursue my studies on 1st October 2021, now I've been living in Cardiff for 1 year and 4 months!  
Cardiff sometimes remind me of my hometown, calm and peaceful. People here are always friendly, which encourages me to be myself more.
---
EYST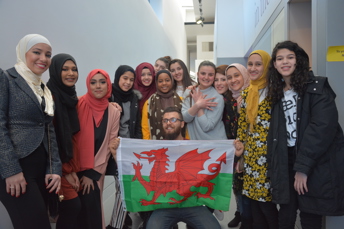 Ethnic Minorities & Youth Support Team was set up in 2005 by a group of ethnic minority young people in Swansea. It aimed to fill a gap in provision for young BME people aged 11-25 by providing a targeted, culturally sensitive and holistic support service to meet their needs. 
Since then, EYST has expanded its mission and vision to also meet the needs of BME young people, families and individuals including refugees and asylum-seekers living in Wales. 
---
Ffion Williams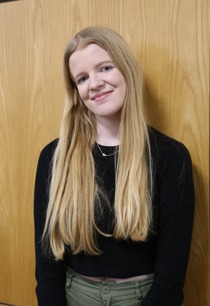 Hi, I'm Ffion and I represent Cardiff West in the Welsh Youth Parliament. The opportunity to vocalise the ideas of my constituents on a national level has been invaluable to me in highlighting the need of youth political participation, which has resulted in me attending a variety of events and workshops focused on gaining the insight of young people. I wish to further pursue the political industry through studying a degree in History and Politics next year at university.  
Outside of politics, I love to sing and am a member of my school's senior choir, I love Wales' identity as the land of song! I also enjoy going out with friends, which Cardiff provides the perfect setting for. 
I believe we should celebrate our heritage wherever possible as the survival of our identity is predicated on our investment in our culture. Cymru am byth!
---
Ellis Peares – Welsh Youth Parliament Member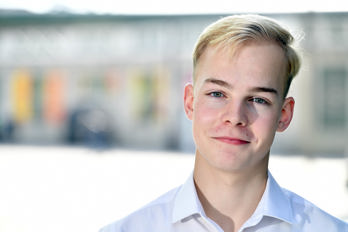 Hiya! My name is Ellis Peares, I'm 16 years old and I'm the Member of the Welsh Youth Parliament for Cardiff Central.  
A bit about myself: during the past year I have been fortunate enough to sit on the Mental Health and Wellbeing committee for the Welsh Youth Parliament, helping to make a real difference to the lives of young people in Wales. I was also honoured to be named on the Pinc List in 2022, which recognises the most influential LGBTQ+ activists in Wales. 
I have also been fortunate enough to be a member of the Iris Prize, which is a festival of some of the world's largest international LGBTQ+ films. 
---
Qahira Shah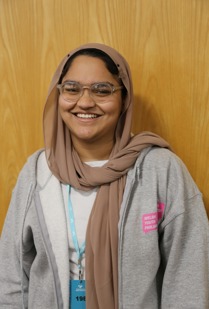 I'm Qahira, I'm 15 and a Member of the Welsh Youth Parliament. I represent my constituents from Cardiff South and Penarth (the constituency you're in today!).  
The projects I focus on and speak up about are welcoming refugees in Wales, child poverty and tackling inequalities by giving everyone equal opportunities. 
I've done various workshops in and around Cardiff and attend many events to get to know young people in my community and hearing about the issues they want to see being tackled. I've visited schools, hosted and spoken at events, attended meetings, and raised money and awareness for charities; all so that Wales can become a safe, welcoming and inclusive place for all. 
To all young people; don't be afraid to speak up and get your voices heard! 
---
Mahmudur Rahman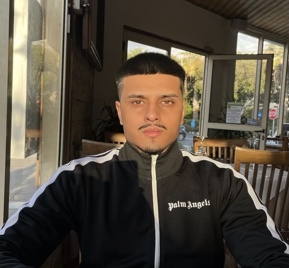 Mahmudur a.k.a Max, is 22 years old and the owner and head coach of Swansea-based, grassroots, under 11s football club – SA1 Dragons. Max is committed to promoting and ensuring diversity of gender/race/religion/experience within SA1 Dragons. He is passionate about ensuring that every child has an opportunity to participate in the team.  
Max is currently a student at University of Wales Trinity St David, studying business management, and hopes to use his knowledge and skills to further his dreams of creating football clubs throughout Wales that promote diversity at all levels. 
---
Rocio Cifuentes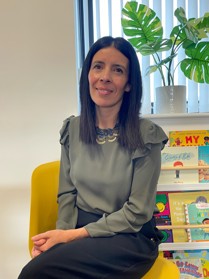 Rocio Cifuentes is the Children's Commissioner for Wales. Her job is to promote and protect children's rights in Wales. 
Before starting as Commissioner, Rocio Cifuentes was Chief Executive of the charity Ethnic Minorities and Youth Support Team (EYST) Wales. She helped to set up this charity in 2005. As well as running EYST, Rocio also served on the Wales Committee for the Equality and Human Rights Commission, and chaired the Welsh Refugee Coalition. She has also taught in a college, worked in youth homelessness and set up a charity for young people with mixed abilities including disabilities called Mixtup. 
Rocio came to Wales as a refugee when she was a baby with her parents who were fleeing the Pinochet dictatorship in Chile in the 1970s. As well as speaking Spanish fluently, Rocio has started to learn Welsh.
---
OASIS One World Choir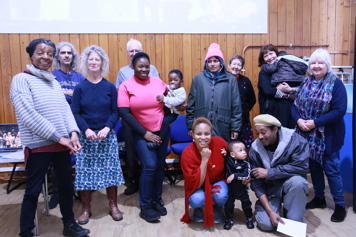 Since 2015, the OASIS One World Choir have been working with Oasis Cardiff a centre for asylum seekers and refugees, to deliver The Oasis One World Choir project.  
The choir consists of a very supportive network of singing and musical volunteers. These volunteers come from both the local Cardiff community as well as from the refugee and asylum-seeking community.  
The resulting chemistry of the wonderful people from around the globe making music together, as well as the many barriers that the project seems to break down along the way are evidence that this project is extremely special and unique. 
---
Young Person. Currently staying in a care leaver provider.

 
Welcome in my language is 'Enkuae denan metsakum'. The things I love most about Wales are the people, the nature and the weather. One thing I am most proud of in Wales is how the people are so polite and friendly. An issue that is important to me right now, in Wales, is college. 
---