We're hiring Security Officers to join our team. You don't need any  previous experience in a security role to apply. We'll provide you with a six week training programme if your application is successful.
Security at the Senedd
As a Security Officer you will be responsible for the  safety and security of Members of the Senedd, staff and people who visit the estate
Each year, the Senedd attracts up to 250,000 visitors from around the world. They visit to take a tour of the iconic Senedd building, join an event, visit an exhibition, and watch debates.
The Senedd is also host to major events such as Royal Family visits, Grand Slam celebrations, and homecoming events for Welsh Olympians and Paralympians.
Have you got what it takes?
We're looking for someone who works well in a team, has sound judgement, and can act decisively and responsibly in a very busy environment.
You'll need to be able to stay calm and professional in difficult situations, and able to provide a professional and polite service to a variety of audiences.
If that sounds like you, we'd love to hear from you! Remember, you don't need previous experience in a security role.
What it's like to work at the Senedd?
Here's what some of the Security Officers had to say about working at the Senedd…
Cerys
"I have never gained security experience in previous jobs so this was something I was nervous to do, but I felt welcomed by the whole department and have enjoyed using and developing my skills in a different environment."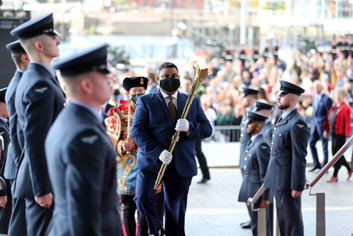 Shahzad
"I was so proud to be the Mace bearer for the Queen for the opening of the Sixth Senedd!" 
Image: Shahzad carries the Mace for the Official Opening of the Sixth Senedd
Calum
"I've been a member of the Security team for two months and felt part of the team straight away. I have learned lots of new skills and been given opportunities to progress. I enjoy the job as you're given a variety of tasks and responsibilities which makes you feel more engaged and fulfilled."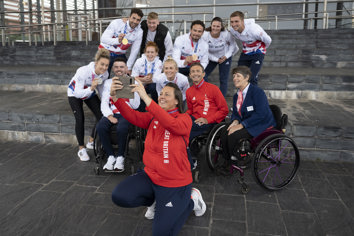 Stacey
"It's a varied role and no two days are the same. We get to engage with stakeholders across the entire organisation and with members of the public from all walks of life.
We also get the opportunity to work at prestigious events such as homecoming events for the Welsh rugby team, Geraint Thomas' homecoming and the GB Olympic and Paralympic teams."
Image: Olympic and Paralympic Homecoming Event at the Senedd
Why work for us?
The Senedd is an exciting place to work. When you work here, you're entitled to:
Salary: £20,738 - £24,710
31 days annual leave and 11 days public and privilege holidays per year.
Working a five day week of 37 hours between 07:00 to 22:00. The days of work will vary and will include regular weekend and public and privilege holiday duties.
Six week security training programme and customer service training.
Access to training and development opportunities.
Principal Civil Service pension scheme.
Access to occupational health, Employee Assistance Programme and supportive work place equality networks.
Generous maternity, foster, adoption, and shared parental leave.
Learn about working for the Senedd
Apply now!
If you have the skills we're looking for, we'd love to hear from you! You'll need to complete an application form through our recruitment portal.
Applications close at midnight on 6 July.