This summer, people of all ages are encouraged to visit the Senedd, where a new exhibition has been created, celebrating the history and communities of Tiger Bay and the docks.
The Senedd, now the heart of Cardiff Bay and Welsh democracy, is showcasing the stories in partnership with The Heritage and Cultural Exchange (HCE).
Three new displays have been created in the Pierhead that give visitors a glimpse into life in Tiger Bay and the docks from the 1880s – 1950s.
The HCE has selected some favourite photos from its collection and other local archives to show what the area looked like and how it has changed.
There are examples of the types of jobs people did in the docks and the wide variety of leisure activities enjoyed by the community. There are also images of Tiger Bay's thriving commercial district.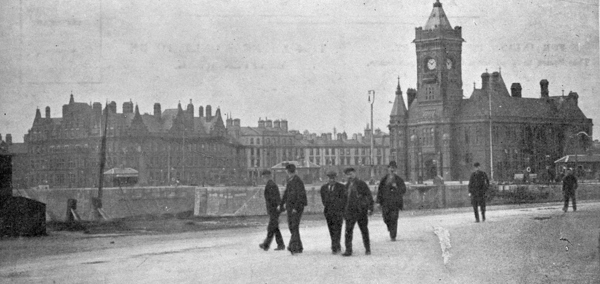 Workers in Cardiff Docks, 1900s © unknown OWLS000339-12
As well as regular free public tours of the Senedd, the Pierhead is also displaying design images of the Senedd building and the architect's early sketches.
The Senedd is open to the public, Monday – Friday: 09:00-16:30, Saturdays and bank holidays: 10:30-16:30 and Sundays in August 10:30-16:30.