We take security seriously at the National Assembly for Wales. Last year we welcomed over 60,000 visitors to our buildings, hosted HRH the Queen at the Official Opening of the Assembly and cheered for our Olympians and Paralympians at the Homecoming event.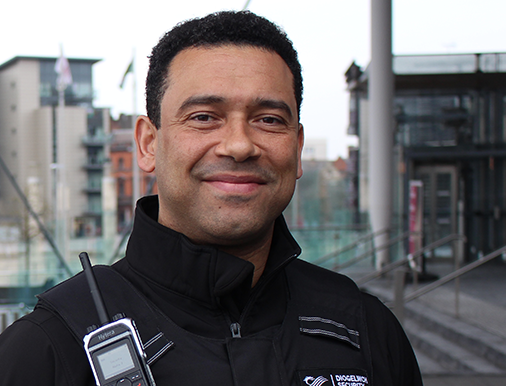 Our Security team ensure the safety and security of everyone who works at or visits the Assembly and are the first point of contact for all visitors to the estate. We are currently looking to create
a reserve list for joining our security team
at the National Assembly for Wales. So, if you want to be informed as soon as new vacancies are available,
please get in touch
.
Interested?
Security Officers Shane and Dean talk about why the National Assembly for Wales could be the place for you.
How is working here different to other security jobs?
"I don't think I've used Welsh in any of my other jobs. I like speaking to the public, and talking to Front of House colleagues really helps to get my Welsh up to standard." Shane "It's very family orientated and a really supportive environment." Dean

By joining the National Assembly for Wales you'll get to work in two of the most iconic buildings in Wales –
the Senedd and Pierhead
– and see
Welsh politics in action in the Siambr
.
 What do you like about working for the Assembly?
"You meet some interesting people, there's always something on." Shane
Our security staff are trained to be aware of the needs of visitors with disabilities, or who might have specific requirements based on their religious beliefs.

So what does a typical day involve?
As well as monitoring the buildings, Security staff greet all visitors and ensure safety on the estate. They also work with Assembly Members, other departments and external organisations to plan events at the Assembly. As the first point of contact for visitors, the Security team have picked up quite a bit of feedback on our
Trip Advisor
and
Senedd Facebook
pages. Some recent comments include:
"…friendly and extremely helpful security…"
"…very efficient but good humoured security guards…"
"The security staff are very nice and friendly, when they say 'Welcome to the Welsh Assembly building...' with a friendly smile it really does make a nice impact".
 What's been a personal highlight for you while working here?
"The Royal Opening – being involved with something that prestigious". Dean "Meeting Bruce Dickinson from Iron Maiden, he's one of my heroes". Shane
What would you say to someone thinking about applying for the role?
"The well-being side is really good, you can develop yourself as an individual". Dean
The Assembly is an exciting place to work with progressive policies and a commitment to training and development. Further information on the benefits of working for us can be found on our
recruitment pages.
Currently recruiting for new Security Officers
We are currently recruiting for new Security Officers. To find out more and to make an application, click here to be taken to our recruitment pages. The closing date is 13 October 2017.