The Pierhead is a Grade I listed building on the Senedd estate in Cardiff Bay. It stands as one of Cardiff's most familiar landmarks and was built in 1897 as the headquarters for the Bute Dock Company. As one of Cardiff's most iconic buildings, set within the regenerated Cardiff Bay, the Pierhead offers many of its striking rooms as event spaces.
Events can be held in the Pierhead Main Hall, Monday-Friday:
Monday to Friday 09:30 – 16:30
Tuesday to Thursday 18:00 – 20:00
Main Hall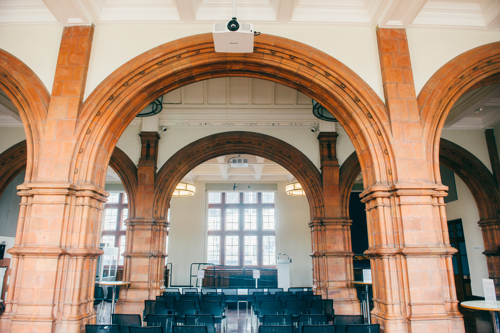 Ideal for:
Conferences
Performances
Receptions
Lectures
Networking events
Maximum Capacities:
Theatre style seating: 100
Cabaret style (round tables): 100
Standing: 140.
Please note that all capacities shown are based on minimal furniture in the room. Capacities can vary depending on other Senedd activities taking place.
Pierhead Main Hall dimensions:
15 x 13 metres
Access
All floors of the Pierhead are fully accessible.